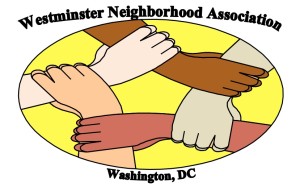 WNA EXPRESS UPDATE
April 2019
* * * * * * * * * * * * *
Spring Clean-up
We will hold our Spring Clean-up on Saturday, April 27, 2019, from 9:00 am to noon. We all start with cleaning up the streets, sidewalks, and alleys abutting our properties. Then we move to the common areas and collectively clean or improve them.
We shoot for 100% participation (rain or shine). It is a great way to get to know your neighbors. There is no sign-up for this. Just meet your neighbors on your street the morning of April 27. If you have time to help with a community task, contact the WNA President for a task (202.210.2276).
We will have a dumpster again this year. It will be located at the corner of Westminster and 10th Streets. For those of you who like to give or receive re-used items, we will have a free cycle area next to the dumpster to place any items we think are re-usable.
We are also participating in the French St. Neighborhood Assn's. hazardous and electronics collection. We will have a place next to the dumpster where you may deposit these items and FSNA will arrange to have them picked up by noon.
We are also hopeful that we will be able to hire a brick mason to repair some of our sidewalk bricks. We will not be able to get all of them but hopefully we can continue with this repair during our future semi-annual clean-ups.
======================
Controlling Rats
Like most of DC these last two years, we're doing all we can to control the rat population in our community. Many of you have been attempting to eradicate the rats by your own methods. Some of them include:
Simple spring-loaded rat traps – available at most hardware stores.

Electric rat traps – works where you have elec. current.
Black boxes that hold rat cube poison – While you cannot purchase bait especially for rats in DC, Pres. Lynn Johnson has some available from Amazon.com (Lynn@Johnsonandpavuk.com).
Finding active holes and putting rat bait cubes in them – If you want to do this, get some rat cubes (purchased by WNA) from Lynn Johnson.
Purchasing cans of CO2 – Available at some hardware stores. Need to find an open active hole.
Purchasing dry ice – same as above. It will kill all rats in the treated hole.
Putting a half pail of water w/peanut butter rubbed around the top edges of pail.
So what else can we, as a community, do to control the ever-increasing rat population?  The most important action we can take is not to feed or water the rats. They would all die if they could not get any food from our trash cans. Neighbors are encouraged to follow these ten tips.
Do not put your trash can out until either the night before it is to be dumped or the same morning if you are an early riser. (Also, PLEASE take it back into your yard on the day it is dumped).

Do NOT overfill your trash can. You should be able to fully close the lid when you put it out. If you can't, you need to purchase another can.
Use a plastic bag for your non-recyclable trash.
Put any cooking oil or other liquid in metal or glass containers with tight lids before putting them in the trash.
Close the top of the bag before you put it out. This will keep your trash can clean and the rats will not gnaw through it.
If you see rats crawling around/over your trash can, pour a little bleach concentration (1 part bleach to 10 parts water works well) in/on/around your trash can.
Sweep up food remains, litter, and trash that the trash truck spills in the alley or street directly outside your house.
Remove weeds and debris near buildings and in yards; don't give rats a place to hide.
Don't leave extra pet food out.
Inspect your basement and house for cracks and holes; seal them with mortar.
Don't provide hiding places for rodents; store materials such as lumber and boxes on a rack with a clean, open area underneath. Get rid of unused materials and junk.
=============================
Playground Electricity Status
As you know, the DC gov. (DGS) shut down our electricity in the playground in June last year. They were doing a major overhaul of the provision of electricity and indicated they would have it working again in a month or so. Well, it has now been 10 months and we are no closer to getting it restored than when they started. While we have been in continuous contact with DGS, the delays have ranged from not getting it to pass Pepco inspection approval to running out of funds to get it ready for a final inspection.
Without electricity, the water feature's automatic on/off switch will not work and our automatic sprinkler for our perimeter plants will not work. We have discovered a way of turning them on and off manually and we did that through the summer last year. We will again use this manual method (which means the water feature will be continually on during the day) until such time as DGS is able to restore our electricity.
=============================
Playground Children's Parties
Yes, we do have a lot of them don't we. Every week-end, sometimes two at a time. WNA members need not pay to hold a party but you must get on the WNA calendar (email Lynn Johnson to schedule). We can only schedule 2 parties at any one time.. For any nonmember (which usually means you do not live in our designated WNA area), WNA asks for a charitable donation: $50 for up to 25 children, $75 if more than 25 children, and $20 additional if you want to set up an inflatable bouncing unit. You can get more information on this by going to http://wnadc.org/playground/childrens-parties/. It takes us all a lot of time to keep and maintain the Playground in its great condition and these funds will help us keep it that way.
If you bring any helium-filled balloons, please arrange it so that the children do not let them go in the Playground as they will get caught in the trees above the Playground, making a slight mess.
============================
Membership – As you know, your dues are $15/calendar year per household plus 1 hour/month doing volunteer work. A WNA lifetime membership is $100 (that's right, you only pay once—good for as long as you own or live in the area. [It does not waive your 1 hour/month requirement to do volunteer work.]
Regardless of which option you choose, you can either mail or just drop your check off to 914 Westminster (payable to "WNA"). Your dues are tax deductible as a charitable contribution so it's a win-win for all of us. [The more members we have, the more influence we have with the DC government agencies to get repairs done.]
Next WNA Meeting – It will be the 4th Tues. of the month in May, i.e , May 28, at 7:00 pm sharp. It will be held in the Westminster Playground if the weather is good; otherwise, at 922 Westminster Street, NW (basement).